FROM:
Homemade Laundry Detergent Powder
Ingredients:
Directions:
Mix all the ingredients together and place into a 16 ounce (or larger) plastic container, with a lid.
Each time that you do a load of laundry use 1/2 cup of this mixture as your laundry detergent.
* Nowadays it can be difficult to actually find soap flakes. You can make your own, however, by grating a bar of laundry soap with a kitchen grater.
Examples of laundry soap include Fels-Naptha
 (click here for a review of Fels-Naptha laundry soap), Ivory
, Sunlight, Kirks Castile Bar Soap
, or Zote
, for example.
Make Your Own Laundry Detergent Balls
Ingredients:
1 cup baking soda
1/2 cup borax
1 cup clear glycerin soap flakes from glycerin bar soap
Directions:
Mix the ingredients together and then separate and compress the mixture into balls, about 1/2 inch in diameter.
Use one of the "laundry balls" per load of laundry.
Keep all the unused laundry balls in a sealed container. Use them all within 1-2 months.
Homemade Liquid Laundry Detergent – Using The Stove
Ingredients:
1 cup laundry bar soap shavings
2 cups boiling water
1 cup borax
1 cup washing soda
1 gallon tepid water
Directions:
Melt the cup of laundry bar soap shavings in the two cups of boiling water, on thestove.
Once the soap has melted and combined with the boiling water slowly add the borax and washing soda, stirring well to thoroughly combine.
Once all those ingredients are thoroughly mixed together add the gallon of tepid water and mix well, storing in a large jug or jugs with lids to hold all the laundry detergent.
Use 1/4 of this homemade liquid laundry detergent in each load of wash.
Alternative Liquid Laundry Detergent Recipe Without Using Stove
Ingredients:
1 ounce liquid castile soap*
2 tablespoons glycerin
1 cup washing soda
1 cup baking soda
2 cups warm water
10 drops essential oil (scent is your choice) (optional)
Directions:
Combine all the ingredients together in a plastic container with a top and shake well before using.
Use approximately 1/4 cup of this homemade laundry detergent for each load (up to 1/2 cup if large or especially soiled load).
You can look at these suggested essential oil recipes for homemade laundry supplies if you want some suggestions of combinations of essential oils that smell good and work well in laundry detergent.
* Recommended liquid castile soaps include Dr. Bronner's
 and Vermont Soap
.
*********************************************************************************
http://www.onegoodthingbyjillee.com/2012/08/make-a-years-worth-of-laundry-soap.html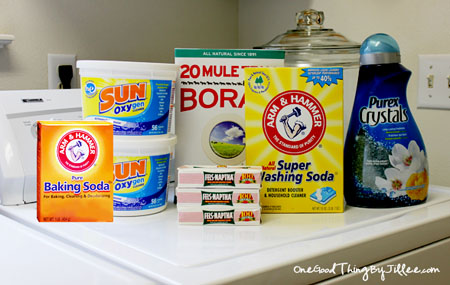 Regular readers of this blog will know that I am completely sold on theNo-Grate Laundry Detergent that I posted back in February of this year.  But, like I've said many times on this website, I am always open to new ideas! And I really liked this idea that someone posted as a comment awhile back.
A YEARS worth of Laundry Soap!?!?  That's an idea that is hard NOT to get behind!  Plus, I've been curious about the "dry" version of homemade laundry detergent that so many people are fond of. I have never tried it before. I figured it's high time I did!
Here is the recipe that Anonymous posted (the text in red are my notes):
Anonymous said…
I make a dry version which works better for my family. I hate storing the bottles, shaking it up, and making it more often. I only make it once and it lasts for the entire year for our family of 4.

3 bars Fels Naptha, grated ($1.33 x 3)
1 box Borax  ($5.85  –  76 ounces)
1 box Washing Soda ($4.07  –  55 ounces)
2 cups of baking soda ($0.53 cents)
2 containers of Dollar Tree Oxyclean (I bought mine at Family Dollar store…SUN Brand…$4.00 each)
1-2 containers of Purex fabric softener crystals ($6.97  –  28 ounces) 

Use 2 tablespoons per load. Put it right in the barrel if you have an HE washer.
To grate the bars of soap I decided to make it easier on myself and use my ancient Hamilton Beach food processor. I figured if it broke in the process it would give me a good excuse to get a new one! But fortunately (unfortunately?) it handled the soap just fine. I would offer one tip though if you decide to use your food processer to "grate" your soap: add something else to the bowl to aid in the process. I added a cup of the SUN Oxygen Bleach to each bar when I processed it. It seemed to help the blades do their job better.
My only other tip for this recipe has to do with the "mixing". Once you add everything, you have a LOT of ingredients to mix together. I decided to put it all in a kitchen garbage bag (doubled) and tumble it all together. Just tie it off tight and turn it over a handful of times and you're good to go! Now you have a nicely integrated batch of laundry detergent that should last a family of four ONE YEAR!
Since we are over the "family of four" limit, and I tend to think we have more dirty laundry than your AVERAGE family…I'm not expecting this to last a full year….but based on my initial use of this (2 Tablespoons per load)….it's going to last us a GOOD, LONG time! I did half a dozen loads of laundry with it before we left on vacation and was completely satisfied with the results! So much so that I'm planning on making TWO MORE BATCHES when I get home from vacation to give to my daughter AND my daughter-in-law. 🙂  Fun gift idea don't you think?
$$$$$$$$$$$$$$$$$$$$$$$$$$$$$$$$$$$$$$$$$$$$$$$$$$$$$$$$$$$$$$$$$
Thought you might be interested in trying out this reciepe I've found for making homemade laundry detergent.  I'm making few batches today in fact, to do my laundry with and will let you all know how it goes.  Seems to me it's gonna be a winner!!  I'm also making enough to give a large bottle to some of my friends for them to try out as well.  I want to get some input besides my own LOL.  One is an especially tough nut to crack considering that she SWEARS by TIDE alone!!  As expensive as it's getting to do laundry, especially since I have to do in a laundromat 🙁 , I figure this is definitely worth a shot!!.  Will also include one separately for homemade liquid fabric softner 😀  Please DO let me know if/when you make some and what your thoughts on how it works for you!
Susan
(recipe amounts are for one gallon and I make 3 recipes/gallons at a time.)
I like to line up my (3) one gallon jugs (old Minute Maid O.J. bottles) and then add the ingredients assembly line style. I use a small plastic funnel for this and it helps to make it all go much faster and with much fewer spills.
Once all three jugs have the 3 ingredients inside, I pour 4 cups of VERY HOT water into each one. I just use water from the kitchen faucet, it doesn't need to be boiling. Swirl each bottle until all the ingredients are dissolved in the liquid. Then fill almost to the top with cold water. (Bubbles will overflow out of the bottle a little.)
DISCLAIMER: (I AM NOT SHOUTING….I JUST WANT TO MAKE A FEW THINGS ABOUT THIS RECIPEPERFECTLY CLEAR!)
It is NOT a THICK liquid detergent. It's quite thin in fact. But it works JUST AS WELL! It has little to no suds (just like the grated soap kind) and it is fine to use in HE washers for that reason. VERY low to no suds.
BECAUSE it is thin….I end up using more of it than the thicker "cooked" version…usually AROUND a cup. Sometimes a little less, sometimes a little more. But I am fine with that because it is SO inexpensive (and easy) to make! (I'd try and figure out the actual cost…but my brain is WAY too tired right now. Maybe tomorrow. Or maybe one of you math whizzes out there will take pity on me and figure it out FOR me! 🙂
UPDATE: Lisa took pity on me!! 🙂  Thank you Lisa!!

Lisa April 30, 2012 at 7:35 am Jillee, I love your blog with such useful tips, I figured all the good tips you give me, I'd do the math I'm no mathematic genius but here it goes .. I paid 3.83 for borax at Walmart , 1.99 for washing soda, and $ 2.00 for dawn. Ok I rounded up to nearest whole dollar so 1 box of borax is 76 ounces so it makes 50 gallons of detergent equaling =0.08 per gallon. One box washing soda is 55 ounces which will make 48 gallons of detergent=0.05/load. The dawn was 48 ounces so it will make 36 gallons of detergent =0.04 per gallon. So my educated guess is each gallon cost is $0.17 !! Now that's one good thing!!!! P. S. I love your cafe rio sweet pork recipe!!!!